To provide students with the best knowledge of Hand, Leg and Weaponry Techniques, Tae'Kyon Kara'Te was formed in 1977 by founder and chief instructor Shihan John Hoffman.
Tae'Kyon Kara'te articulates:
Tae'Kyon - the ancient Korean Martial Art, specialising in leg and foot fighting techniques.

Tae'Kyondates back to the 5th Century. Historians believe in the Koryo Dynasty (10th Centruy) it was a soldiers examination subject as well as the royal family's favourite martial arts. Early in the 20th Century during the 36 year Japanese occupation, the practice of Tae'Kyon was prohibited by the Japanese Colonial Government. Subsequently the art was nearly lost, remaining with very few.

Whilst Tae'Kyon is recognised as contributing to modern Tae'Kwon-Do these are different arts, most noted by Tae'Kyon's greater emphasis in trapping, sweeping and range of lower leg techniques.

Chinese characters in early writings used to describe the art, can be translated to 'excellence in knowledge'. In Korean, 'Tae' meaning 'Foot' manoeuvers such as defend and retaliate through stances and positioning towards your opponent combined with distancing, timing, trapping, sweeping and foot strike techniques.

Kara'Te

- an ancient Japanese Martial Art.
'Kara' meaning 'Empty' or unarmed.

'Te' is a Chinese word for 'Hand'.

Hence Kara'Te-Do meaning 'Empty Hand' combat techniques. Traditionally approximately 70% hand manoeuvers and 30% leg manoeuvers. There are many systems of Kara'te that have evolved from the original eight Ryu schools of Japan post World War II. We practice Shorin-Ryu Kara'te-Do (of the original Ryu schools) originating from Okinawa Japan.
Shao-Lin Chinese Martial Art. As devised by the Shao-Lin Monks. China being a very large country, many systems of Martial Arts and Weaponry styles developed over the centuries and within the different regions. The movements of mammals, birds and insects such as Tiger, Monkey, Stork, and Praying Mantis were studied by Shao-Lin Monks and applied in their self defence strategies.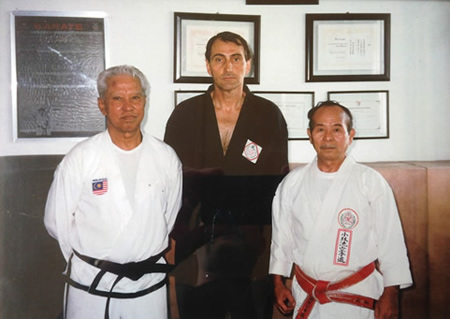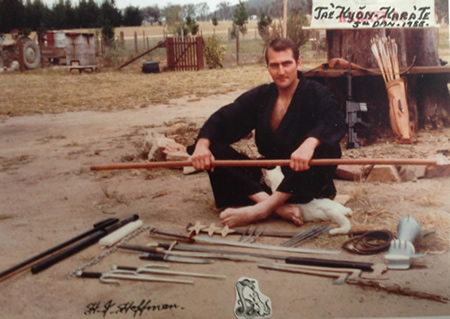 Pictured above and ranks 1995 Shihan Hoffman and Teachers. ____________________________Shihan H.J Hoffman 1988
Sifu J.F Collar 8th Dan Pukulan
Shihan H.J Hoffman 6th Dan TaeKyon Kara'Te
Professor Yoshihide Shinzato 9th Dan Shorin Ryu Kara'Te
WhyTae'Kyon Kara'te articulates these arts:
At the age of seventy-four (2020) Shihan Hoffman's Martial Arts résumé includes a 9th Dan Tae'Kyon Kara'Te (United Federation of Grandmaster's Council), 6th Dan Shorin-Ryu Kara'Te Okinawa Japan, 3rd Dan Tae'Kwon-Do (I.T.F Korea), 5th Dan Tae'Kwon-Do (W.T.F Kukkiwon Korea), 1st Dan Budokan Kara'Te, is a Master of Shao-Lin Weaponry and has Platinum Life Achievement recognition by the United Federation of Grandmaster's Council (2006).

Whilst the skills to defend one's self is the goal of each system of Martial Arts, Shihan Hoffman found that by enabling students to learn the skills of more than one system, the student grows and appreciates a broader understanding and open mind to movements, strategies and variable combat forms they may encounter in the art of combat, either in dojo's or unforeseen circumstance in the public arena. Shihan John Hoffman is a fully qualified Master in the aforementioned Martial Arts, hence the forming of Tae'Kyon Kara'Te, 'The Art of Self-Defence'.

Tae'Kyon Kara'Te is definitely not a sport orientated art. It is instead focused on 'The Art of Self-Defence' and its applications, providing the opportunity to gain skills and knowledge in self-defence, including martial technique, self preservation skills, self development, and general health and well-being.

Tae'Kyon Kara'Te headquarters is located in Australia, in the town of Benalla, Victoria. Please see our Clubs link for Dojo locations.